Pinthouse PIzza: Brewpub started by six friends continues to innovate as it grows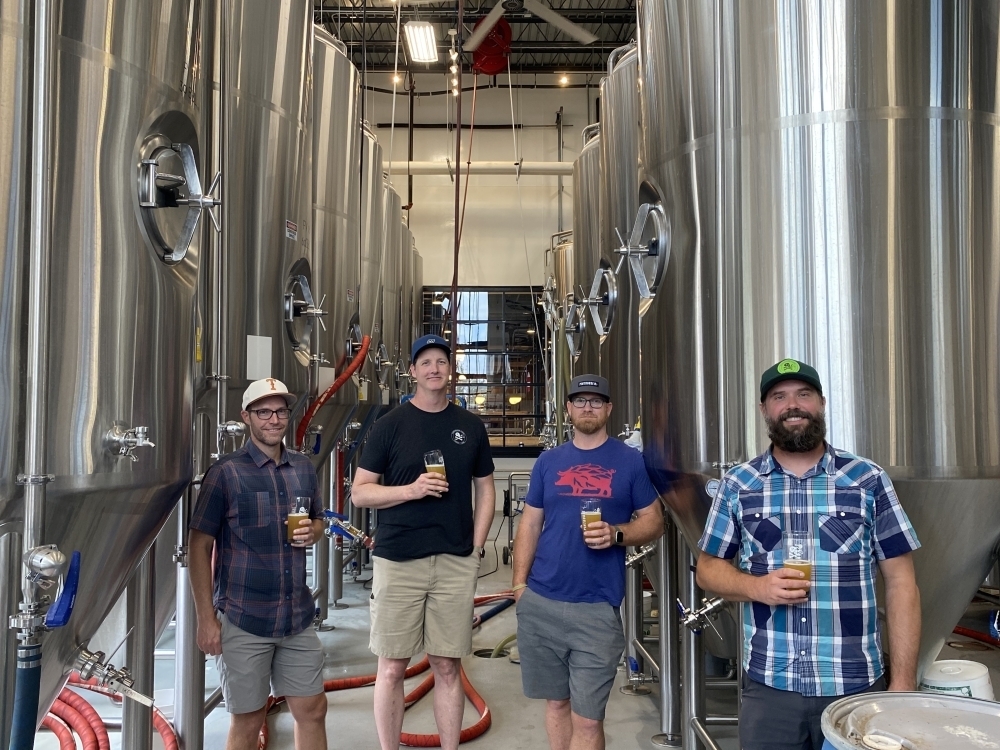 From left to right, co-founders Tyler Norwood, Ned Lavelle, Kyle Detrick and Joe Mohrfeld stand inside the Round Rock Brewery. Co-founders Ryan Van Biene and Nic Van Biene are not pictured.
The genesis of Pinthouse Pizza began with a passion for craft beer shared by friends long before the restaurant opened.
Co-founders Ryan Van Biene and Tyler Norwood have known each other since 1997. They maintained a friendship from elementary school to undergraduate school, and after Norwood began his studies in business school at the University of Texas, he met co-founder Ned Lavelle.
When they entered the restaurant industry, Norwood and Levelle had a creative urge to create something of their own. Van Biene was familiar with Pizza Port in San Diego, a craft brewery offering menu pizzas similar to Pinthouse Pizza but not quite the same, and shared the concept with his co-owners.
"We used it as a starting point and we made it our own, and we continued to evolve the concept," said Norwood.
They added family friends Kyle Detrick and Nic Van Biene as co-founders in addition to Joe Mohrfeld, a former head brewer of Odell Brewing Co., bringing the Pinthouse ownership group to six.
The group opened its first brewery on Burnet Road in North Central Austin, producing 690 barrels of beer per year in 2012.
"We were lucky because we got out of the busy gate," Detrick said. "We had to double the size of our brewing capacity in the first three months. "
Now, Pinthouse Pizza has four locations, expanding to South Lamar Boulevard in 2016; Roche Ronde in 2019; and its new location, Pinthouse Brewing on Ben White Boulevard, in 2020.
When Pinthouse expanded out of Austin, Norwood said the vibe of the location had changed slightly as well.
"[Round Rock] is the only place among the top three original pizza pubs with a bar as a focal point, "said Norwood. "Burnet and South Lamar locations are more like a restaurant with a bar attached to it."
Pinthouse Pizza is no stranger to change. On December 3, the development company that owns the Brodie Oaks shopping center where Pinthouse's second restaurant, Barshop & Oles Co. is located, announced a billion-dollar mixed-use project on the site, including hotels, residences and green spaces. The project is expected to start construction in 2022 or 2023.
"We're not 100% sure what the best solution is, but it will be a dialogue that we will continue to have with them as they finalize their plans for the center," said Norwood.